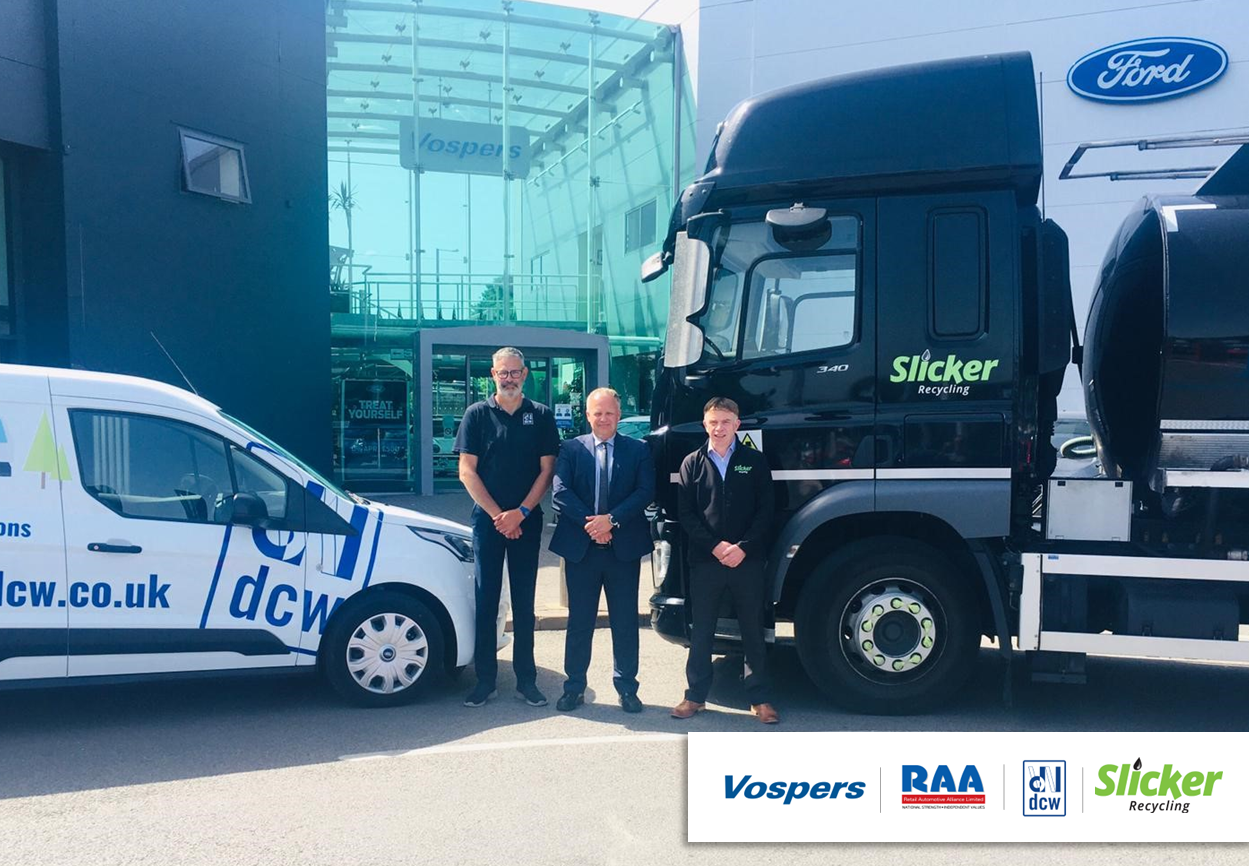 Through their sustainable approach to waste management, Vospers, a dealer group based in the South West and a prominent member of Retail Automotive Alliance (RAA), have significantly reduced costs and carbon across their group, whilst contributing to the circular economy. RAA approved hazardous waste management partner, Slicker Recycling, supported by dry waste specialist DCW, have worked in collaboration with Vospers to help achieve this goal.
Waste oil to base oil: the sustainable approach
Vospers, which represents a wide range of brands, including but not limited to, Ford, Fiat, Nissan, Renault, and Seat, operate 13 sites across Devon & Cornwall. Through servicing customers' vehicles, Vospers generates 110,000 litres of used lubricating oil annually across the group. Thanks to their partnership with Slicker Recycling, however, Vospers has a cost-effective, sustainable solution for all waste streams produced. The used oil collected by Slicker is processed at their state-of-the-art re-refinery that recycles the used oil back into a base oil product – a key component in brand-new lubricating oil. Through this sustainable process, the used oil Vospers generates can be used again and again, preserving a valuable finite resource and greatly cutting their carbon footprint.
What are the carbon savings?
Other UK-based waste oil service providers predominantly generate Processed Fuel Oil (PFO) from the waste oil they collect. This dirty, carbon-emitting fuel, used in the marine and energy markets greatly effects the climate crisis, sadly, and perhaps surprisingly, this is still a very significant disposal route for waste oil for the UK automotive industry. Compared to this process, Slicker's clean, green, base oil approach greatly minimizes Vospers' carbon output. By utilizing Slicker's sustainable service, each year the group saves over 20,200 kg of carbon, which is equivalent to the approximate annual carbon absorption of 810 trees!
Commitment to the waste hierarchy through responsible dry waste management
Not only have Slicker helped reduce Vospers' carbon footprint by recycling their waste oil, but through their comprehensive waste management package, and broker partnership with Zero to Landfill waste management and recycling company DCW, they have also helped eliminate Vospers' waste-to-landfill. Slicker is committed to the European Waste Hierarchy, which prioritises prevention, recycling, and re-use, of waste material over disposal. In their auditing process, Slicker only works with suppliers, such as DCW, that also adhere to these principles. Thanks to DCW's sustainable approach to dry waste, of the 140 tonnes of dry waste Vospers produces each year, 67% is recycled and 33% is re-used in an efficient waste-to-energy process, completely avoiding landfill.
Striving for a more circular economy, DCW launched its recycled plastic furniture range last year to ensure that waste plastic goes back into the manufacturing process. The range includes benches, dining sets, chairs, fencing decking and even dog agility equipment. Each item is made using 100% plastic waste collected from businesses across the South West and holds a 10-year guarantee. A sustainable alternative to timber, the products are maintenance free, will not rot, splinter or corrode and will not require painting or treating.
Minimising waste spend
In addition to the environmental and carbon benefits, through the dynamic waste management partnership, Vospers has also greatly reduced their waste expenditure. By consolidating all their services under one roof, Slicker offers industry-leading rates, resulting in significant savings across the group. Not to mention, by consolidating their supply chain, it has helped simplify their waste management.
Reciprocal partnership
The relationship between Vospers, Slicker Recycling and DCW is well integrated and reciprocal in its nature. DCW has purchased as many as 10 commercial vehicles in recent years from Vospers, including the one above, and Slicker utilises DCW's services for dry waste management for all accounts in the West Country. DCW are considered one of Slicker's most valued dry waste partners in their UK supply chain.
A Winning Formula
Through sustainable waste management collaboration, the automotive dealer group and prominent member of the RAA, Vospers, have established a winning waste management formula which meets the sustainability ambitions of the group, whilst minimizing waste expenditure.
Dave Walker, GFM at Vospers has commented
"Global climate change is something as individuals, businesses and communities we can no longer ignore. At Vospers, we aim to make changes to help cut our carbon and minimise our impact on the environment. Thanks to our partnership with Slicker Recycling, with the support of DCW, we are making significant process towards this goal."
Slicker Recycling's National Sales Manager, Sean Thorpe comments,
"We work closely with our customers to help them drive drown their carbon output whilst reducing their total waste management spend. By working with Vospers we have helped identify ways the group could make carbon and cost efficiencies, resulting in environmental and financial benefits across their business."
Mark Hartley-Norton, Senior Waste Consultant at DCW says,
"The circular economy is at the very heart of what we do. We are pleased to support our sustainably-minded partners, Slicker Recycling and Vospers, in their eco ambitions."
For more information on Slicker's comprehensive, carbon-cutting, cost-effective waste management package contact our expert team on 0330 159 8325 or email customerservice@slickerrecycling.com.