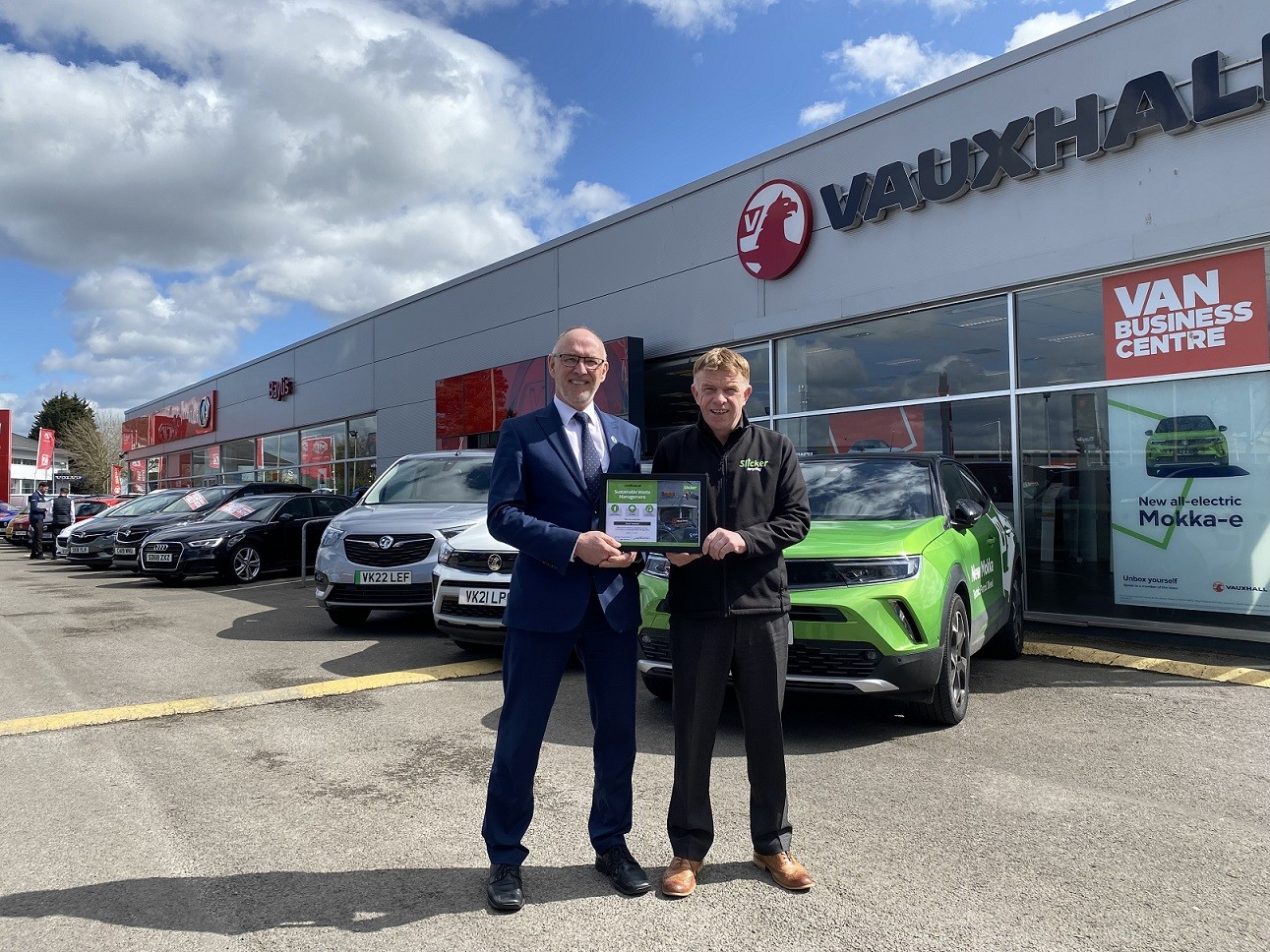 Baylis' Commercial Director, David Williams (left) accepting sustainable waste management certificate from Slicker Recycling's National Sales Manager, Sean Thorpe (right)
Automotive Dealership Network, Baylis (Gloucester) Ltd, have been awarded a certificate of Sustainable Waste Management, after taking significant strides to slash their carbon footprint and commit to a circular economy model. With sites across Worcestershire, Gloucestershire, Herefordshire and South Wales, the increasingly environmentally conscious automotive group, are being supported in their sustainability goals through Slicker's waste oil and workshop waste services, as well as drainage and interceptor maintenance. As members of the Vauxhall Buying Group (VBG), Baylis were first introduced to Slicker Recycling through The Purchasing Agency (TPA), who have a close working relationship with the VBG.
Carbon Cutting Through Innovative Used Oil Management
Baylis takes its commitment to minimising waste and cutting carbon seriously. Now, thanks to the partnership with Slicker, the dealer group contributes directly to the circular economy through the responsible management of their waste. The used lubricating oil Baylis generates, in the servicing of customers' vehicles, is collected by Slicker Recycling and sent to their state-of-the-art base oil re-refinery. At this facility, the used oil is processed back into a base oil to be used in the production of brand-new lubricating oils.
The environmental benefits of the Baylis-Slicker partnership are colossal. Compared to base oil made from virgin crude oil, the product re-refined from Baylis' used oil saves over 480kg of carbon for every 1,000 litres collected. Slicker's base oil re-refining approach is also over 37% more carbon-efficient than the previous outlet for their used oil, Processed Fuel Oil (PFO) production, a fuel burnt in the marine and energy markets.
Comprehensive Circular Waste Management
Not only have Baylis met the requirements of the circular economy through the management of their waste oil, but through their hazardous workshop waste too. The waste generated within their workshops, such as oily rags, used oil filters, and oil contaminated waste, is collected by Slicker and sent to specialist facilities. These facilities break down Baylis' waste into component materials which are then re-used in the production of new products or utilised it in a waste-to-energy process. Through this model, the dealer group meet the European Waste Hierarchy, which prioritises reducing, recycling and re-using waste over its disposal. Due to their commitment to responsible waste management, Baylis have been award the certificate of Sustainable Waste Management as evidence of their ongoing drive to minimize their impact on the environment.
"Cutting our carbon footprint and increasing our recycling rates is high on our business' agenda. Thanks to our partnership with Slicker Recycling, we have made significant progress in meeting our lofty sustainability goals."
David Williams, Commercial Director of Baylis (Gloucester) Ltd
"The issue of the disposal of vehicle waste engine oil has certainly gained momentum in recent months. Consequently many of our several hundred car dealership clients are currently discussing this sustainable route with us. The possible changes to UK legislation, specifically on the disposal of used vehicle oil, is really focusing attention within the sector."
Ray Bedford, Director of The Purchasing Agency
For more information on how we can help you cut your carbon and contribute to the circular economy, contact our expert team on 0330 159 8325 or visit our website www.slickerrecycling.com